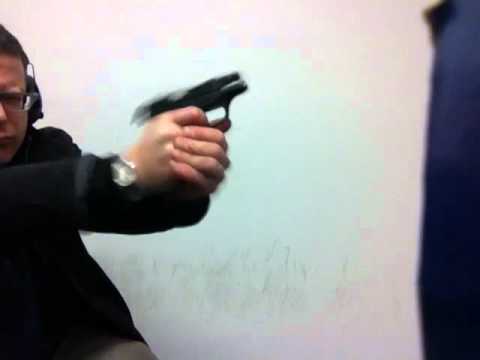 rapid assumption of kneeling and presentation of the Ruger LC9 from a Remora holster
The Ruger LC9 is a great firearm for a specific niche. Let us know if this discussion of available holsters for the LC9 is useful to you!

As an owner of the similarly-sized Kel-Tec PF9 (which retails for around $330) and Kahr PM9 (which can be had for around $650), the rugerLC9 fits nicely in the middle in terms of size and weight.  I really like the kel tec, but after about 100 rounds of ball ammo, I start to experience type-3 doublefeed malfunctions with about 1 out of 20 rounds if I don't clean the feedramp.  For a defensive situation, I demand something more reliable that doesn't need a fluff and buff after every 100 rounds. In terms of reliability (and when I say reliability, I'm talking malfunctions, here) the Ruger LC9 falls right in line with the Kahr.  That is, it has been flawless.
When comparing the specs on these, I took a line from TheTruthAboutGuns.com which puts it in perspective. (I am originally from Southeast New England, so I appreciate the humor of the author).
 To put that in perspective, the Ruger LC9 weighs 2.5 ounces more than the Kel-Tec PF9. Or 6.3 ounces less than the Ruger SR9c and 4.4 ounces less than the twice-as-thick Glock 26. More experientially, Ruger's smallest nine weighs about the same as a can of Campbell's Homestyle Chicken Noodle Soup—and it's a lot easier to hide on your person. In fact, you can slip a buck naked LC9 into your pocket and your gun-aversive amigos will still be happy to see you.
The nice thing about the Ruger LC9 is that while it falls roughly midway in price between the Kahr PM9 and the Kel-Tec PF9, it is extremely reliable, which makes it a huge value.  Also, spare magazines are not that expensive either. (You do have spare magazines, right?!)
That being said, we have to review a few options for which holster would be a good fit for the Ruger LC9. Given the compact size, we will discuss belt carry and pocket carry holsters.  I'm only going to review IWB holsters for the LC9, as that is my preferred style of carry with a firearm of this size.  The Ruger LC9 is a popular new firearm, and holster manufacturers are struggling to keep up with demand.  To complicate matters further, the LC9 will require different holsters depending on if you have the Crimson Trace as an option or not.  All holsters mentioned below are reviewed WITHOUT the Crimson trace, unless otherwise noted.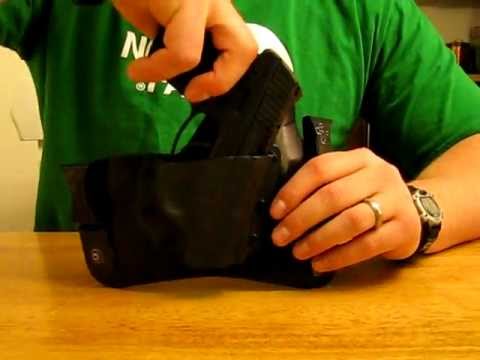 IWB Holster options for the LC9
1: Crossbreed Mini-tuck or Comp-Tac series holsters
In my opinion, Cross Breed and Comp-Tac deliver a 1-2 punch when it comes to holsters for the Ruger LC9 and it's brethren.  It really depends on your personal preference.  The cross breed mini-tuck is by far the most comfortable IWB holster you will come across, but it is more difficult to put on and off than the Comp-Tac offerings.
The leather backing is great for absorbing sweat and keeping the gun from grinding into your skin on long car rides.  That being said, the Comp-Tac offerings for the LC-9 have less of a wait. Personally, I have one of each, but for different purposes.  The Comp-Tac is worn when I have to transition from waistband to backpack carry frequently.  The Crossbreed is worn when I have a long day of IWB carry ahead of me.
2: Desantis Intruder IWB holster for Ruger LC9.
This is a spin off of the Cross Breed style holster.  It is good, and it has the added benefit of being in stock, but I have heard that the dye in black leather can irritate some people if they wear it against sweaty skin for long periods of time.
3: Galco Kingtuk and Triton holsters would be good options for holsters for the Ruger LC9, except for the fact that they are perennially out of stock at Galco, and they are presently only offered in Right hand models.
4: Desantis Sof Tuck presents a good value option.  It should be noted that while the above three IWB holsters are molded specifically for the LC9, the sof-tuck will fit other guns in the same size range such as the Kahr PM9
Review of Pocket Holsters for the Ruger LC9
Bianchi No. 9 pocket holster, Desantis Superfly M44, and Desantis Nemesis.
For pocket carry, it is hard to beat the Desantis SuperFly M44.  The M44 offers the same features that the Bianchi and Nemesis offer, however it also offers a detachable anti-print panel.  Let me first say that I rarely, if ever, carry in my front trouser pocket.  I will, however, sometime carry in my cargo pocket.  If you are a fan of front pocket carry, then skip the superfly, and go for the nemesis.  If I have intrigued you, then let me explain further.
The Superfly holster has a detachable anti-print panel which pretty much makes the gun look like a wallet in your pocket.  Thus, it is great for cargo pocket carry.  And… if you decide to front-pocket carry, you can simply remove the panel and you are left with a nemesis, more or less.
If you are looking for the Super Fly holster for your Ruger LC9, you want manufacturer part #M44BJMKZ0.  Presently, amazon has the super fly holster for the Ruger LC9 on sale at these twolinks.
Do you have the LC9 with the Crimson Trace laser?  If so, then I recommend that you purchase the next larger size of the Super fly linked here for your convenience. I already had this for my G26, so I was good to go.
If you are looking for the nemesis, you wantTHIS:
For completeness, I need to mention the Uncle Mike's Pocket holster. It comes in 5 sizes and for the LC9, you want #3.  This is a good economy option, but in my opinion, not as robust or as easy to present the gun from as the Desantis offerings.
Other Options:
Finally, there are some other options for the Ruger LC9 which are novel or that I have otherwise not personally held in my hand.  I want to include them in this overview of what's available.
This Holster looks like a decent IWB option which will fit the LC9 with a Crimson Trace laser.
Also, we need to mention the 'Sneaky Pete" series of holsters.  These are designed as cell phone holsters for belt use.  I have not personally held one in my hand, but they are worth a look.